« October 2004 | Main | December 2004 »
An Honorable Young Man
Mayor Daley's only son, Patrick, has enlisted in the Army, choosing to serve his country rather than pursue an undoubtedly lucrative career as a recently-minted University of Chicago MBA.
"There are many paths of service--policeman, fireman, political and the military--but it's an all-volunteer era. I've always wanted to find a way to serve...just like my grandfather and my father. Think of it. It's amazing. I get to serve my country."
Though I'm adamantly opposed to war, I admire his devotion to our country.
November 30, 2004 in Current Affairs | Permalink | Comments (1)
Taking a Breather
I'm more than a bit burned out on politics at the moment, even as Bush ramps up the atrocities under the banner of his imaginary mandate. I'll be returning Pete Lit to its original literary focus for the indefinite future.
Anyone still hungering for my political views should check out Moral Policy, a blog launched by one of my old UI liberal chums, Josh Paley. I'll be posting there occasionally. Anyone who has any fresh ideas on how to convince Bush voters not of the hardcore right-wing variety of the folly of their ways is welcome to contact either Josh or myself. (The hardcore right-wing is more than likely beyond persuasion anyway.)
November 29, 2004 in Current Affairs | Permalink | Comments (0)
Frustrated Execs Turn to Poetry
Interesting article from yesterday's Tribune--in the Business section, of all places--about executives who write poetry. (Read here if you're registered with the Trib, or here if you're not; the latter can only be viewed in Explorer.) The fact that the group Poets & Patrons estimates there are roughly 100 executive/poets in the Chicago area tells me there are quite a few corporate types with exceptionally unfulfilling careers, though the Trib's pro-business bias inevitably points up the business-enchancing qualities of executives who dabble in poetry on the side.
The Northern Trust guy can talk all he wants about how it helps him think non-linearly on the job or reclaim his individuality, but I think most corporate people who write on the side--including myself--do so to escape the mind-numbing routine of office life.
I quite like the first Ted Kooser poem included with the article, "A Death at the Office." I think it illustrates rather nicely the superficiality ("snapshots from home, wherever it was") and transient nature ("We have her ballpoints back") of work-related "friendships." Take away the common bond of the workplace, and often there's nothing us linking us to the people we spend 8+ hours with each day.
As a disclaimer, I should point out that I met Julie at IBM, and when we first starting dating our desks were five feet apart. Excluding this blissful exception, the above has been my experience with virtually all of my office-based friendships.
November 26, 2004 in Books | Permalink | Comments (0)
Thankful, Indeed
In a lot of ways, it's been a tough year. But one thing that I can say I'm thankful for is that I wasn't standing in my backyard at around 7:30 last night. The tree shown above snapped from the weight of the snow and ice, after having been pummelled by heavy winds earlier in the day, and rained major sections of the trunk and countless branches onto the yard. It wasn't one of our healthier trees, anyway--it looks like it might have been hit by lightning sometime in the past and had previously lost a huge branch, and was probably starting to rot inside.
No casualties, other than a bent birdfeeder pole and possibly Maddie's sandbox, which bore the full weight of the biggest section of trunk that fell. Both of our neighborhood brown squirrels, who I think might have lived in the tree, survived and have spent most of the morning happily engorging themselves on the corncobs and peanuts I left for them.
November 25, 2004 in Personal, Photography | Permalink | Comments (0)
Oh Great, Another Letter to the Editor
Now that the election and its aftermath is winding down, this might be the last such letter I'll be sending to the Joliet Herald-News for a while. Unless Bush does something particularly egregious, of course, like invading Iran or adding another neanderthal to the Supreme Court. I'm pleased with the placement I got on this one--first letter, on Thanksgiving Day. If this doesn't get the maximum local exposure for my views, nothing will.
November 25, 2004 in Current Affairs | Permalink | Comments (0)
Albums in Bulk
Inspired by faithful reader Shaz, I compiled a list of all the artists in Julie's and my record collection with three or more releases. In several cases I was generous in including significant EPs. (* Denotes artists one or both of us has seen perform live.)
11 - Bad Religion*
8 - R.E.M.
7 - Yo La Tengo*
6 - Matthew Sweet*
5 - Smashing Pumpkins*, Mudhoney*, Husker Du, The Pogues, Giant Sand*, Sebadoh*, John Hiatt, Camper Van Beethoven
4 - Superchunk, Fugazi*, Ben Folds Five/Ben Folds*, The Outnumbered*, Morphine, Archers of Loaf*, Scruffy the Cat*, The Replacements*, George Thorogood*
3 - The Feelies, Nirvana, Uncle Tupelo*, Foo Fighters, Pavement, Dumptruck, Vehicle Flips, Built to Spill/Doug Martsch*, The Oyster Band
November 24, 2004 in Music | Permalink | Comments (2)
reVerse
For a guy who isn't particularly into poetry (other than Philip Levine and David Berman), I'm rather intrigued by the audio verse collection reVerse, a collection of "poems, songs and poem-songs" from both established and emerging poets and songwriters. Lou Reed is the contributor who first caught my eye, but there's several others of interest here as well, including Lawrence Ferlinghetti and Mark Strand. Full list is as follows:
"Echo And Shadow", Li-Young Lee
"Skyscraper (Delux)", K.C. (Kenneth) Clarke
"Shed", Linnaeus
"What It Was", Mark Strand
"Take Off Your Shoes (and Run)", Marvin Tate
"Possession of the Field", Elise Paschen
"Evolution", Cin Salach
"Green Man", Richard Fammerée
"History of the Airplane", Lawrence Ferlinghetti
"Song for You", Alexi Murdoch
"Spectacle: Possession", Simone Muench
"It's About Time", Kent Foreman
"Words Are My Salvation", Sherrille Lamb
"The City and the Sea", Lou Reed
The CD can be purchased here, with MP3 downloads available here and streaming audio here. A portion of the CD's sales benefit The Poetry Center of Chicago's Hands on Stanzas program, which hires poets to teach in Chicago's inner-city schools, and enables students to discuss and read poetry, and write and perform their own poems. More info on reVerse is available at its website.
November 23, 2004 in Books | Permalink | Comments (0)
Further Infringement
Our congressional "leaders" managed to slip into the critical 2005 spending bill a provision which quietly infringes on abortion rights. From the Center for American Progress:
The omnibus bill also includes an attack on Americans' abortion rights, making it "a little easier for hospitals, insurers and others to refuse to provide or cover abortions." Today, many clinics and providers, in exchange for federal funds, are required to tell pregnant women who do not wish to have a child that abortion is among their options. The omnibus provision, sponsored by Rep. David Weldon (R-FL) and slipped into the bill without discussion, "would make it more difficult to enforce that," threatening to "withhold all federal education and health funds" from local governments which required health care entities to provide such information. House leader Nancy Pelosi (D-CA) said the Weldon amendment represented "an extraordinary sneak attack on women's rights," allowing doctors and hospitals to "simply ignore" Roe v. Wade.
The conservatives need to be reminded, once again, that the right to abortion is currently the law of the land, via the Roe v. Wade decision. To continue to provide federal funding to practicioners who refuse to uphold the law is an implicit condemnation of a woman's legal right to abortion. These practicioners are free to follow their consciences and not provide abortions if they wish; but if they choose to do so they should not enjoy the financial support of the U.S. government.
Here in Illinois, Senator Dick Durbin--who continues to be an inspiration to progressives, and whose promotion last week to Senate Minority Whip is well-deserved--voted against the spending bill, while lame-duck Republican Peter Fitzgerald voted for it. Thanks for exercising your conscience, Pete; now please pack your things and clear out. Make way for Obama.
November 23, 2004 in Current Affairs | Permalink | Comments (0)
Thomas Frank
Frank, editor of the excellent The Baffler and most recently the author of What's the Matter with Kansas?: How Conservatives Won the Heart of America, was interviewed by Jon Stewart on The Daily Show. The segment is entertaining--as is anything involving Stewart--though Frank's dialogue comes across as a bit mechanical, as if he's thoroughly rehearsed his spiel for making the rounds of the talk show circuit.
I'm definitely adding this book to The List.
November 19, 2004 in Books, Current Affairs | Permalink | Comments (0)
Photo(s) of the Week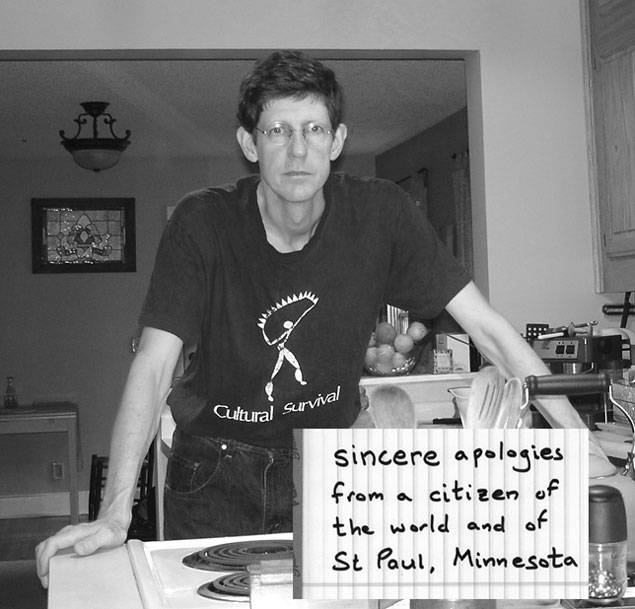 Truly, truly sorry.
November 16, 2004 in Current Affairs, Photography | Permalink | Comments (2)
Where's That Compassion, Conservatives?
Or your common sense, for that matter?
The HIV/AIDS infection rate is six times higher than that of the general population; between 20 to 26 percent of Americans infected with HIV/AIDS have spent time in the correctional system. Inmates are at a greater risk for infection due to injection drug use, unprotected sex and tattoing that can occur during incarceration. When infected inmates are released from prison and return to their local communities, they obviously represent a great risk for the disease to be spread.
The Illinois Public Health Corrections and Community Initiative was launched in 1999 to prevent the spread of HIV by connecting recently released inmates with high-intensity case managers, who help ex-cons gain access to HIV/AIDS-related services. By all accounts, the program was a success.
But on September 30, its federal funding ran out. Despite the program's success and its vital goals, the Center for Disease Control now says that local agencies must pay the tab.
With momentum lost, former program director Kendall Moore fears HIV transmission rates will spike in pockets of the city. "It's a powder keg waiting to explode," he said.
Yet another case of the Bush Administration's short-sighted policies. Tax cuts for people who don't need them? Good. Federal funding for critical social services that serve the general public good? Bad.
(Full article below.)
AIDS outreach in holding pattern
`Bounty hunters' in an HIV-prevention program for ex-convicts are sidelined by funding cuts

By Johnathon E. Briggs
Tribune staff reporter
Published November 14, 2004

Armed with little more than a last known address, James Duffy searched high and low for ex-convicts. Canvassing Chicago neighborhoods in his Chevy Lumina, he was often mistaken for a cop--in truth, he was an AIDS bounty hunter of sorts.

Duffy was one of eight intensive case managers under an innovative AIDS-prevention program that sought to stop the spread of HIV by keeping recently released prisoners from infecting others.

The program is exactly what the Centers for Disease Control and Prevention has in mind as it shifts the focus of its AIDS strategy from healthy people at risk of becoming infected to infected people who might transmit the virus to others.

But today Duffy and his fellow bounty hunters are on the sidelines after federal funding for the Illinois Public Health Corrections and Community Initiative ended Sept 30.

With momentum lost, former program director Kendall Moore fears HIV transmission rates will spike in pockets of the city. "It's a powder keg waiting to explode," he said.

Studies suggest that prison is a primary source of HIV transmission, continually reintroducing the virus to society when prisoners return home.

Between 20 and 26 percent of Americans living with HIV/AIDS have spent time in the nation's correctional system, where the AIDS rate is six times higher than in the general population, according to a 2002 report by the National Commission on Correctional Health Care.

Inmates are at greater risk than the general population for contracting the virus through injection drug use, unprotected sex and tattooing that may occur during incarceration, the Center for AIDS Prevention Studies at the University of San Francisco found.

The Bureau of Justice Statistics estimates that 2 percent of the nation's inmates are HIV-positive. In Cook County, about 8,000 inmates were tested for HIV in 2001 and 3.5 percent tested positive, according to the AIDS Foundation of Chicago.
Started in 1999

Funded by the CDC and the Health Resources Service Administration, the ex-convict program launched in 1999 after the Chicago Department of Health was selected as one of seven health authorities in the country to expand HIV-related services to inmates.

It was the only one of its kind in the state and administrators say it was successful in connecting prisoners with HIV/AIDS to services after their release. But funding for the $1 million pilot program was limited to five years and CDC officials say local agencies must now foot the bill.

The city has managed to secure $250,000 from the state Health Department. But there's a catch: Since it's state money, the citywide program is being retooled to serve the entire state, with only a quarter of the original funding and a tiny staff.

It is an ambitious, if not impossible, goal, AIDS groups say, pointing out that even in the city, the program was overburdened.

"We always had to move clients [through the program]--keep them moving, moving, moving--because we didn't have space," said Rev. Doris J. Green, AIDS Foundation of Chicago manager of community outreach who coordinated case management for the program.

Meanwhile, Duffy and his colleagues wonder how their work could have ended as the number of AIDS cases climbs in city neighborhoods where large numbers of ex-convicts return.

The communities they often visited--West and East Garfield Park, North Lawndale, Woodlawn--have some of the highest AIDS rates in Chicago, city Health Department figures show.

"We don't understand that, you know?" said Dawud Abdul-Nur , 56, a case manager at the Alliance for Community Empowerment, an AIDS organization in Bronzeville, who worked for the program. "We're right in the middle of the battle and then, all of a sudden, we've been pushed aside."

The case managers were warned when they were hired that the program might end Sept. 30, the day federal funding expired. But back in February, Duffy had no idea he would take the news so hard.

"I told myself that it wouldn't bother me," said Duffy, an ex-convict and former drug addict who worked for the University of Illinois at Chicago HIV/AIDS Project, "but it's bothering the hell out of me."

Duffy said he remains troubled because the funding cut dismantled a close-knit group of dedicated outreach workers who often searched "under the rock"--in crack houses and junkie-filled shooting galleries--for HIV-infected ex-convicts.

Case manager Carl Jones-El, for example, said he used to change clothes "like Superman" in the back of his four-door Nissan, donning a baseball hat and pulling his shirt out of his khakis before getting out to ask the whereabouts of an ex-convict. It was his way of going undercover.

"It was easy to bond because we all were about the same thing: getting the best for client," said Duffy, 54. "It was just beautiful, man."

Inmates were offered HIV testing upon intake at Cook County Jail and, if positive, were assigned an internal case manager. Before their release, they were matched with an external case manager like Duffy who made sure they took their medicine, tried to avoid transmitting HIV and got linked to social services.

A network of 18 agencies provided services, from substance-abuse treatment and housing to food vouchers and employment assistance. When ex-convicts no longer required hands-on help, they were moved into a standard form of case management.

Between 2000 and 2004, the program helped 1,287 inmates. Seventy percent were men, 80 percent were African-American, and most were indigent.

Federal health officials say ex-convicts with HIV/AIDS need the extra attention.

"For people who are coming out of the justice system, there are often a lot of other needs that supersede, in their mind, their disease," said Hugh Potter, a public health adviser at the CDC's National Center for HIV, STD and TB Prevention. "It really is about helping people with their life situation oftentimes."

"We had a lot of success stories," said Jones-El , 55, a discharge planner at Cook County Jail. "We got 15 to 20 people who've been to prison [several times] and these people are living in society as productive citizens."

For several of the case managers it was more than a job, it was a calling. Some were ex-convicts or former addicts who empathized with their clients. Others, like Jones-El, whose brother, Jacquea, died of AIDS, had lost loved ones to the disease.

It was the 1989 death of Raymond Neely, a friend he used to get high with, that moved Duffy to AIDS outreach.

"I remember I used to carry him up and down the stairs and he'd just start crying because he was so weak. And I would tell him that he shouldn't cry, that the only time he should cry is when nobody's there to carry him, and I was there."

After Neely's death, Duffy vowed that if he had anything to do with it, no one would face HIV alone.

"We got people falling through the cracks now," Jones-El said.
Finding new funding

Program and city health officials tried to find new funding as early as two years ago, but encountered a tough funding environment.

The absence of the case managers is already being felt. Last month, within 48 hours after the program's end, Green received seven referrals and didn't know what to do.

Duffy said that a piece of him is missing as well.

"It was always more than a job to me," he said. "It had become such a part of me."
(Copyright © 2004, Chicago Tribune)
November 15, 2004 in Current Affairs | Permalink | Comments (0)
A Blessedly Slow NaNoWriMo
NaNoWriMo feels differently this year. I just crept over 10,000 words, and probably won't clear 20,000. And definitely not 25,000. It's been a good exercise in writerly discipline, as always, but I don't feel the compulsion of past years, when I absolutely, positively, had to write every minute I was on my morning and evening train, and felt guilty if I didn't slip out of the office for an afternoon writing session several days each week.

Not that I haven't been productive--I've finished two medium-length stories, have another that is half-finished and that I can't figure out how to conclude, and have one that I'm working on right now. (I quite like this one--it's told from the perspective of the bank examiner in It's a Wonderful Life, an exceptionally minor character who was on screen for no more than two minutes in the film.)

All in all, it's a lot more writing than I otherwise would have gotten done in two weeks. But I mercifully haven't had the obsession with cranking up my word count that I had last year--during which time Julie said I was rather tired and crabby all the time. So I've been in a better mood this year, have been able to take the occasional nap on the evening train, and haven't had to completely abandon the serious reading I usually do on the morning train--just this week I devoured the copies of The Atlantic, Poets & Writers and The2ndHand that have been languishing on my nightstand for the last few weeks.

This will probably be the lowest output I've had in three years of NaNoWriMo, but in a lot of ways it's been the most enjoyable one I've had so far.

November 13, 2004 in Fiction | Permalink | Comments (0)
Michael Miner on the Tribune
Michael Miner at the Chicago Reader weighs in on the otherwise rational Chicago Tribune's unconscionable endorsement of George Bush (which I did my best to eviscerate, at length, here). This will be my last word on the subject.
If the Sun-Times wasn't such a load of dreck--and inconducive to Sunday morning sharing--I'd cancel my Sunday Trib subscription as well. I guess I'll just have to keep reading Steven Chapman and Clarence Page and ignore the left side of the editorial page, where the reactionaries still hide behind the anonymity of "Editorial Board."
November 12, 2004 in Current Affairs | Permalink | Comments (0)
Once Again Fallow
The scraggly woods are filled with water, a sorry cluster of trees at the edge of a once-industrial field. The rising sun streams through the trees, reflecting off the stagnant rainwater, orange against the black-shadowed trunks. The land is all but abandoned, of no use to any one, any more; not to the industrialists, whose immense factory once stood in this field, not to the farmers who earlier coaxed crops from the bottomland's soil, not to the deer who still earlier nibbled at leaves and stems when the woods were immeasureably more expansive than those which remain today.
Today, the land stands forlorn, home not to industrialists or farmers or innocent deer, but merely to a few wayward pieces of construction equipment which sit parked here, rusting and likely forever.
November 12, 2004 in Fiction | Permalink | Comments (0)
CTA in the Family
"Tom G." has written a lovely memoir of his family's longstanding relationship with the CTA at This Is Grand.
November 9, 2004 in Chicago Observations | Permalink | Comments (0)
Wise Words, While Words Fail Me
"May we, beleaguered by the same negation and despair, show an affirming flame."
--W.H. Auden
I'm still grasping for an explanation for last week's election defeat. I thought the choice seemed obvious--between an admittedly flawed liberal who was none the less committed to bringing equality and security to the American people and restore America's place within the international community, versus a plutocratic ideologue intent on remaking the world in his image, regardless of the consequences, and fighting only for an elite fraction of the population.
I'm not angry, just disappointed. I'm disappointed that so many millions of people can be swayed by "moral" issues--abortion and gay marriage--even if those issues have no direct impact on them personally, while ignoring Bush's numerous other moral failings. I'm disappointed that voters can be so easily manipulated by an administration--and its Evil Genius, Karl Rove--which panders to fear to win votes. I'm disappointed by voters who ignore pervasive media coverage of the Iraq War and the domestic war on terror, and simply takes Bush's word for it that we're winning on both fronts. I'm disappointed that so many voters failed to demand that Bush aggressively address the serious problems we are facing domestically--unemployment and wage stagnation, skyrocketing healthcare costs, disappearing pensions and retiree health insurance, substandard public education--instead of tinkering with minor adjustments--at best--or selling out to corporate interests who, lo and behold, just happen to be generous contributors to his reelection campaign. And I am disappointed that so many voters value a tax cut of a few hundred dollars over the current welfare of the country as a whole and our future fiscal viability.
I am disappointed, but resolved to fight. We can take back this country from George Bush's grasp, and once again become a healthy, secure nation which values equal opportunity for all of its citizens and truly cares about its place in the world community. Our next major battle is the Congressional elections in 2006; victory there will give us back control of Congress and restore a crucial check on Bush's power for the final two years of his presidency, and lay the groundwork for retaking the White House in 2008.
I strongly encourage you to constantly engage with your conservative friends, family, neighbors and co-workers and show them the common ground which exists between the two sides, and that liberals and progressives aren't immoral, tax-raising libertines. Show them the fallacies of Bush's policies and ask them to explain how Bush truly represents them and serves their interests, while gently spelling out the liberal/progressive ideals on which this country was founded but which are being so carelessly subverted by the Bush Administration.
Most of all, be Auden's affirming flame.
November 8, 2004 in Current Affairs | Permalink | Comments (1)
Mould Moves On, Moves Forward
Brave, inspiring words from Bob Mould...
Move forward with purpose. Move forward with focus. Visualize the world you want, and make it happen.
November 5, 2004 in Current Affairs | Permalink | Comments (0)
Bipartisan?
So, President Bush somehow considers his less-than-overwhelming 51% of the popular vote to be a strong public mandate for his second term agenda. He also says that his policies will be enacted via bipartisan efforts.
It will be very interesting to see what Bush considers "bipartisan": whether it's "I'll work with the Democrats, comproming when necessary to craft legislation which has the concurrence of as much of Congress as possible" or "Here's what I want, Democrats. You can vote for it if you like, but I have enough votes in Congress that I'll get it passed no matter what you do."
Remember that he first approached the United Nations from a similar position of strength, as the world's preeminent military power, before the invasion of Iraq. "Okay, France, Germany, Russia and the rest of Old Europe, we want to invade Iraq. We'd like you to commit a substantial amount of money and troops. No? Well, the hell with you. We're invading anyway. Enjoy your irrelevance."
November 5, 2004 in Current Affairs | Permalink | Comments (1)
HAVING TROUBLE VOTING?
Election Protection (www.ourvote.com) is a non-partisan coalition of civil rights and civic organizations committed to protecting your right to cast your ballot. Call their hotline immediately (1-866-OURVOTE or 1-866-687-8683) if you're facing any of the following problems:
Are you registered, but your name is not on the voting list?
Have you been told you went to the wrong precinct, but don't know how to find your correct voting place?
Has someone tried to stop you from going to the polls, or tried to intimidate you?
Has someone tried to "help" you fill out your ballot?
Are you confused about the actual voting day?
November 2, 2004 in Current Affairs | Permalink | Comments (0)
John Greenleaf Whittier
I heard this poem recited on NPR this morning. Rather appropriate.
The Poor Voter on Election Day
by John Greenleaf Whittier
The proudest now is but my peer,
The highest not more high.
To-day, of all the weary year,
A king of men am I.
My palace is the people's hall,
The ballot-box my throne!
For there alike are great and small,
The nameless and the known.
Who serves to-day upon the list,
Beside the serfs shall stand.
Alike the brown and wrinkled fist,
The gloved and dainty hand.
The rich is leveled with the poor,
The weak is strong to-day;
And sleekest broadcloth counts no more
Than homespun frock of gray.
To-day let pomp and vain pretence
My stubborn right abide;
I set a plain man's common sense
Against the pedant's pride.
Today shall simple manhood try
The strength of gold and land.
The wide world has not wealth to buy
The power in my right hand!
While there's a grief to seek redress,
Or balance to adjust,
Where weighs our living manhood
Less than mammon's vilest dust?
While there's a right to need my vote
A wrong to sweep away
Up, clouded knee and ragged coat
A man's a man to-day.

November 2, 2004 in Books, Current Affairs | Permalink | Comments (2)
Photo of the Week
Maddie, still coming down from her Halloween sugar high.
November 1, 2004 in Family, Photography | Permalink | Comments (0)
Go Blago Go!
Well, my silence sure didn't last long...I just wanted to give a quick shout-out to Governor Rod Blagojevich and his drug-reimportation program. Reimportation isn't the perfect solution, but anything that will give consumers some leverage over the drug companies is welcomed. This letter to the editor of the Joliet Herald-News says it all.
The announcement by Gov. Blagojevich that the I-SaveRx program is ready to help people get the drugs they need is good news-especially for seniors.

Do I buy food or fill my prescription? Do we buy his blood pressure or her arthritis medicine? These are decisions no one should have to make. But we make them everyday.

Prescription drugs costs in this country are increasing 3-4 times faster than our incomes. Whether we rely on Social Security of a paycheck, having enough money to fill our prescriptions is getting harder and harder.

Re-importation through I-SaveRx will be a safe, reliable way to get the drugs we need at a more affordable price. For the second time in as many years, Gov. Blagojevich has stood up to the drug industry to bring real help to Illinois seniors.

On the other hand, the Bush Administration has chosen to protect drug industry profits instead of Americans' access to affordable drugs. Pres. Bush and his allies in Congress continue to block bipartisan legislation that would legalize drug imports. The Bush Administration refused to work with Illinois on a pilot re-importation program. And they prohibited Medicare from negotiating lower drug prices.

Americans pay more for medicine because the federal government has chosen drug company profits over our best interests. Gov. Blagojevich's administration is fighting for us. The federal government should do the same.

Hal Gullett
President
Illinois Alliance for Retired Americans
Normal, IL
November 1, 2004 in Current Affairs | Permalink | Comments (0)
NaNoWriMo...
...has started up again. You can follow my inexorable progress towards 50,000 words here. As I mentioned previously, I'll be attempting to write short stories which cumulatively total 50,000 words, out of respect for the still-unfinished novel that I worked on during NaNoWriMo 2002 and '03.
Family, work and NaNoWriMo priorities will probably greatly curtail new postings here at Pete Lit for the next month, other than (hopefully) a celebratory message for a John Kerry victory or (more likely) occasional cynical comments on the looming ballot recount process.
My position on the election should be obvious to anyone who's even casually reading my various postings here. Simply put, John Kerry offers us the best alternative for restoring America's reputation in the international community and offering us a safer, better and more equal future here at home. But regardless of which candidate you prefer, get out and vote tomorrow. It's your responsibility as a citizen.
November 1, 2004 in Fiction | Permalink | Comments (0)